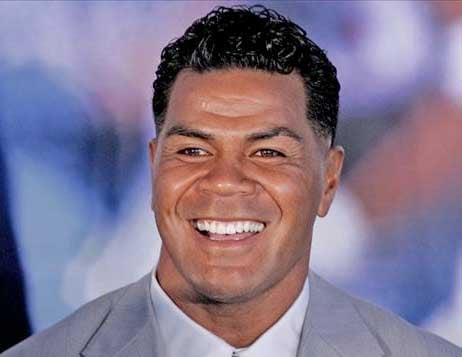 Junior Seau died this Wednesday, of a self-inflicted gunshot wound to the chest. He was 43 years old. He was one of the best linebackers in the NFL over his career, and will very likely end up in the Pro Football Hall of Fame. He was frequently the only bright spot on some truly atrocious San Diego Chargers teams, and he was one of the most respected people around the NFL. He played high school, college, and NFL football in the southern California area, where he was revered for his play on the field, as well as his conduct off of it. Seau was one of the most charismatic and down-to-earth stars in the area, and he was also extremely committed to charity work, including founding
the Junior Seau Foundation
.
One of my aunts used to work for the Chargers, and as a result, I got to meet him very briefly after a game, when I was somewhere around 13 years old. I hadn't yet grown into the full frame that I now have, but I was a decently sized kid at the time. I was probably about 5' 9" or so at the time, and about 180 pounds. I've also always had very large hands - I don't mean fat sausage-fingers or something, but just very big, long, wide hands. I played football and hockey, so I wasn't a stranger to big guys, and size advantages that other men have held over me have never really merited any particular notice from me.
All of that said, when I first shook Junior Seau's hand, I was stunned. It is the only time in my life that I can recall being taken aback at the size of another man. He was just so god damn huge! Not huge as in fat, but huge as in "I am the best linebacker in the NFL and I am made of pure bone and muscle" kind of huge. His head was big, his neck was big, his shoulders and his chest were huge, and his hand enveloped my own.
I know that in my lifetime, I have met taller men, and wider men, and maybe even stronger men, but I have never yet met anyone who radiated the sort of presence of "big-ness" that Junior Seau did. I had shaken hands with a 6' 3" 250 lb giant.
And then that giant leaned down and said softly, "Nice to meet you".
I highly doubt that I will ever again in my life meet anyone as big as Junior Seau.